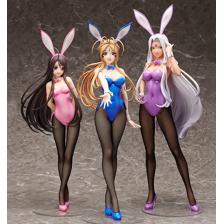 Description
The three goddesses, now in special bunny outfits!
From the popular manga series "Oh My Goddess!" comes a 1/4th scale bunny outfit figure of Urd, older sister of Belldandy! The figure stands over 40cm tall, giving the figure a sense of presence fit for a goddess. Her bewitching outfit and real net tights make for a truly outstanding figure. Be sure to preorder with Belldandy: Bunny Ver. and Skuld: Bunny Ver. (both sold separately)!
Sculptor: MA Zoukei
Specifications:
Painted 1/4th scale PVC product with stand included. Approximately 500mm (19.69 inches) in height.
Manufacturer: FREEing
---
Recommended
---
---
---
Urd: Bunny Ver.
Ena Toyosaki: Swimsuit Ver.

Available Now

Sale

Little Armory

$40.99 $33.00

Chloe von Einzbern: Bunny Ver.

Available Now

Sale

Fate Series

$270.99 $217.00

Racing Miku: 2016 Thai Ver.

Available Now

Sale

Hatsune Miku

$130.99 $105.00

Kino: Refined Ver.

$96.99 $77.00

Sakura Shinguji

Available Now

Sale

Sakura Wars

$140.99 $113.00