15% Off
15% Off
15% Off
15% Off
15% Off
15% Off
15% Off
15% Off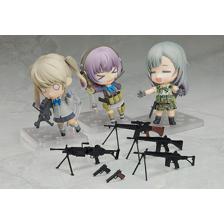 Description
A high school girl in the image of the Japan Self-Defence Force, and now a Nendoroid!
From TOMYTEC's popular 1/12th scale military model kit series "Little Armory" comes a Nendoroid of one of the original characters from the series - Ena Toyosaki! She comes with three expressions including a standard expression based on the illustration on the model kit box, a battle expression for when in the middle of a firefight and an absent-minded expression, fitting for the military otaku Ena!
She also comes with a chibi-sized Howa Type 89 rifle originally from the "Little Armory" series. Her ammo pouches, skirt and ribbons are all decorated with a camouflage pattern using pad printing. Additionally, muzzle flash and gunfire impact effect parts are included. A ration carton papercraft is also included inside the package!
- Who is the Little Armory's Ena Toyosaki? -
Ena Toyosaki is one of the characters seen on the Little Armory packaging, illustrated by Haruaki Fuyuno. She is a student at Asagiri National High School, and is aiming to become a Japanese Self-Defense Force official through military training.
Little Armory Official Site: http://www.littlearmory.jp/
Sculptor: Kodama Yohei
Specifications:
Painted ABS&PVC non-scale articulated figure with stand and chibi-sized Howa Type 89 rifle included. Approximately 100mm (3.94 inches) in height.
Manufacturer: TOMYTEC
---
Recommended
---
---
---
Nendoroid Ena Toyosaki
Maria Teruyasu: Swimsuit Ver.

Available Now

Sale

Little Armory

$40.99 $28.69

Ena Toyosaki: Swimsuit Ver.

Available Now

Sale

Little Armory

$40.99 $28.69

Nendoroid Doll archetype: Woman (Peach)

Available Now

Nendoroid Doll

$19.99

Nendoroid Captain America: Endgame Edition DX Ver.

Available Now

Sale

Avengers: Endgame

$80.00 $68.00

Nendoroid McCree: Classic Skin Edition

Available Now

Sale

Overwatch

$49.99 $42.49